Introduction:
WELCOME TO 2019 @ RUN ZONE
Welcome to 2019 and to the Run Zone family!
"Our club is a collective of amazing people striving to become the best version of ourselves!"
On behalf of our founding members Graham Block (Chairman), Candis Lubbe (Vice Chairman), Tersia Block (Treasurer) & our operational committee members, we send warm compliments of the season and wish you all an abundant & prosperous year filled with happiness and good tidings!
Kindly take note of the following important notices regarding the regular running of the club for 2019.
To all our new members, we welcome you to the family. To all members old and new, we would like to take the opportunity to wish you an amazingly prosperous running year with us and many happy miles! It's going to be a phenomenal training season and race year ahead.
If you have not yet renewed your membership for 2019, you can do so online or visit the admin table at admin times outlined.
Thank you for your support, commitment and dedication. Without our people, we would not be the club we are - The Peoples Running Club!
Run Zone has an exciting calendar for 2019 and as an actively growing community, we aim to ensure a smooth, streamlined operational club. So with out delay, please read on!
Don't forget to visit our website for more information.
January 09, 2019 | Wednesday
MEET OUR FOUNDING MEMBERS
OUR CLUB CHAIRMAN - GRAHAM BLOCK




To lead and manage the clubs committee and to act as the ambassador for all aspects of the club.



OUR VICE CHAIRMAN - CANDIS LUBBE
To provide support to the Chairman, manage the role of General Manager and guide the Operational Team.
OUR TREASURER - TERSIA BLOCK
Assists the chief appointed accountant for effective management of the clubs finances.
MEMBERSHIP & REGISTRATION
All members are to ensure you have completed your 2019 ASA Form to confirm your registration as a Run Zone member. If you are transferring from another club, it is compulsory to submit a clearance letter from your previous running club. All memberships include a 2019 ASA Licence. A complimentary Vest/T-shirt is included in membership fee for NEW MEMBERS only.
Membership renewals do not include club kit and should you wish to order an additional vest/T-shirt, this is at an additional charge of R 350. If you have not yet renewed your membership, please ensure you do so online or at the club at designated club admin times below.
Membership is only verified on receipt of your membership paid in full and club kit is allocated thereafter for new members.
2019 ASA LICENCES
Central Gauteng Athletics (CGA) has confirmed a grace period to use your 2018 ASA Licences up until 31 January 2019.
Run Zone will be receiving our first batch of licence numbers next week. You will be notified on relevant dates and times for for collection of your 2019 ASA Licences as soon as they are ready!
2019 FEES
We regret that the early bird rates closed on 31 December 2018! For 2019 NEW MEMBER and RENEWAL rates, click here.
ADMIN TIMES
Registration, kit fittings and orders or any other administration may be done at Northcliff Country Club at the below times:
Weekend Club Runs on Saturdays @ 07h00-10h00 OR Time Trials on Wednesdays @ 17h00-19h00
PAYMENT OPTIONS
Payments can either be paid via EFT, Cash or Zapper
Banking Details: Run Zone AC, Nedbank, 2011275679, 198405, Savings Deposit Account
Payment Reference : Surname + Initial + MEM
Please email proof of payment to admin@runzone.co.za
IMPORTANT NOTE!
NO DOCUMENTATION WILL BE ACCEPTED VIA WHATS APP UNDER ANY CIRCUMSTANCES.
Proof of payment, ASA Forms or Club Clearance Letters must either be emailed to admin@runzone.co.za OR submitted to the club at above noted club administration times.
CLUB SECRETARY - ELRISIA ROUX
Responsible for managing the various administrative aspects of executive committee and related matters.
CLUB ADMINISTRATOR - TANIA VAN DER MEULEN
Co-ordinates the administrative aspects of membership, registration and kit orders on a periodic basis.
CLUB KIT
It is compulsory to fit your kit to confirm your size at the club before placing your order as we do not accept returns for incorrect size orders. Only orders received on official kit order forms at club will be accepted (regret no emails and whats app orders are accepted).
Note How it Works: Kit orders are placed with our supplier once payment has been received and verified on a weekly basis. Expected turn-around time for delivery of your kit order is 2 weeks from date of order placed with our supplier (which is done weekly). Please note that our supplier has been closed since mid December 2018 until 7 January 2019, therefore for and all orders that were placed over this period are being placed with our supplier on Wednesday, 9 January 2019.
New members kit is included in rgeistration fee and take preference only due to race committments/entries. Additional orders for existing members who have paid in full will also be prioritised. Additonal kit orders that have outstanding payments will only be placed on verification of payment.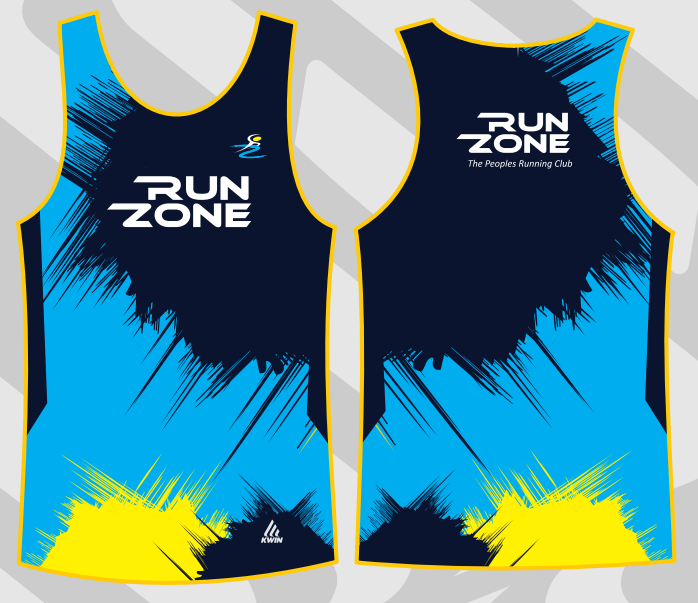 Vest
Club kit (vest/T-shirt) is included in New Membership fee. Renewals may purchase additional kit @ R 350
The official Run Zone Club Kit is to be worn with black shorts / tights for official races.
For more information on training gear and accessories view our Active Wear Range on our website.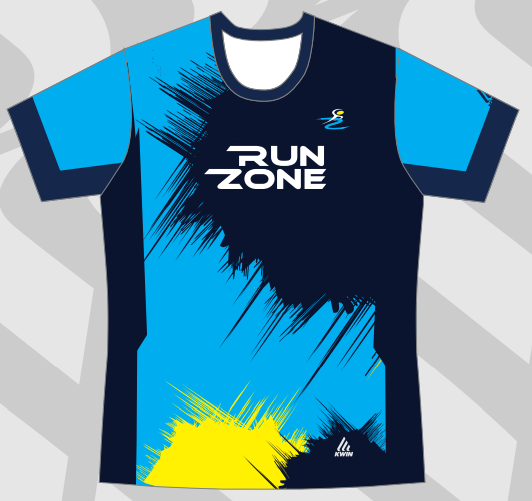 T-Shirt
Club kit (vest/T-shirt) is included in New Membership fee. Renewals may purchase additional kit @ R 350
The official Run Zone Club Kit is to be worn with black shorts / tights for official races.
For more information on training gear and accessories view our Active Wear Range on our website.
Licence numbers can be sewn onto to your kit vest/T-shirt on request at an additional charge – enquire with Candis Lubbe via email admin@runzone.co.za OR Whats App 084 371 0123 when 2019 ASA licences arrive.
ACTIVE WEAR
Training Gear and accessories are available to members and non-members, check out our Active Wear Range on our website or visit us during Club Admin times for fitting and to place your order. Please remember that no email or whats app orders will be accepted. Orders are taken on official order forms as the club.
WEEKEND CLUB RUNS
Weekend Club Runs happen every Saturday & Sunday @ Northcliff Country Club.
All distances offered 5km/10km/15km/20km & 30km+ during marathon training season.
Voluntary donation of R 20 for club members and R 30 for non-members to cover supplies AND operational requirements at water points and after run club spread.
GROUP 1 START TIME : 05H30
GROUP 2 START TIME : 06H00
BOTH GROUPS: Cover all distances!
Please arrive promptly for designated start and follow parking patrol instructions on entering the Northcliff Country Club premises. Sign the attendance register, drop your keys and meet at the start line (entrance) for route briefing.
NOTE: Feeding & refreshment station preparations will be adjusted to marathon training format ensuring runners are race ready. We will still have a great spread at the club no matter the distance to re-fuel and socialise!
CLUB RUN LEADER - LEIGH HILL
To manage the requirements associated with weekly club runs. Responsible for the recruitment of Volunteers and managing Water Station Roster. Duties include logistics around locations, set-up and return of equipment and volunteers.
Please contact her on 072 300 5408 to schedule your name down for a WP in January! Couples, friends & family are welcome to help you as well!
Please follow parking patrol instructions and always remain courteous and mindful to ensure morning parking routine is effective and hassle free.
Please avoid blocking any entrance and no parking is permitted at the arch as this is reserved for truck and water point operational collection and drop off.
PARKING PATROL - MARLON YUSUF (MO)
Manages parking of club runs including security at the gate and to ensure effective traffic flow to designated parking areas and reporting of issues if any. Parking Control must manage a roster of volunteers.
If you are keen to get to the club a few minutes earlier to help facilitate with parking, please contact MO via Candis Lubbe on 084 3710 123 to put your name down in January! Remember you can still run on the day you volunteer.
TIME TRIALS
Time Trials happen every Wednesday night @ Northcliff Country Club.
Distances offered are 5km & 8km routes and are timed.
All are welcome & participation is free.
BOTH DISTANCES START TOGETHER!
Please arrive promptly for start time and park on the Northcliff Country Club premises. Drop your keys, put on your bib and walk down through the bottom gate to the start line in Northcliff for announcements and sign the attendance register.
NOTE: Refreshment station is at the club afterwards!
TIME TRIAL LEADERS - ERIC KOMEN & CLINTON POSON
Manages and coordinate the weekly time trials. Capture, monitor and report on the time trial results leader board. Lead and/or brief the start and finish of weekly time trials. To attend weekly time trials.
Times are recorded for the distances you run! A Leader board will be published on our site for all 2019 time trials by the end of January 2019. Monitor your pace and improve weekly!
9 January 2019

Admin open 17h00-19h00.




Bar open!




Race Committee meeting by invite @ 19h00




5/8KM
16 January 2019

Admin open 17h00-19h00.




Bar open!




Ops Committee meeting @ 19h00




5/8KM
23 January 2019
Admin open 17h00-19h00.
Bar open!
5/8KM
30 January 2018
Admin open 17h00-19h00.
Licence number collection to be confirmed.
Bar open!
End of month bring and braai!
5/8KM
As a member, we ask that you review your schedule and please put your name down for a gazebo host, club run water point, race marshal and various other events that will be advertised during the year.
We have a volunteer roster at club admin OR you can volunteer online.
Re-structuring of water point duty set-up is being reviewed to accommodate volunteers and reduce time spent on route.
Our club is run by our people! Building and serving our community together!
RACES & GAZEBO CALENDAR - JANUARY 2019
Below is an indication for the month ahead. Minor details are subject to change should operational or logistical arrangements change.
JANUARY 2019
05 JANUARY 2019 - SATURDAY
DISCHEM HALF MARATHON
CATEGORY A
16 JANUARY 2019 - WEDNESDAY
GARBIE STRIDERS
CATEGORY C
26 JANUARY 2019 - SATURDAY
WONDERPARK AKASIA 3-IN-1
CATEGORY C
30 JANUARY 2019 - WEDNESDAY
ARWYP NITE RACE
CATEGORY C


CATEGORY A - FULL HOUSE - HOSTING - GAZEBO & TRAILER - CATERING
CATEGORY B - GAZEBO & TOG BAG - HOSTING - GAZEBO & TRAILER
CATEGORY C - GAZEBO ONLY - NO TRAILER OR CATERING
RACE GAZEBO LEADER - THABANG JUSTICE MOEKETSI
Manages the Race Gazebo Roster & Operational requirements aligned to all major races on the race calendar in Central Gauteng. Review Race Start List. Communicate and Liaise with Gazebo Hosts and provide instructions and guidance to the hosts including organisation of key for Trailer. Mange all logistics associated with gazebo at races.
If you are interested in supporting or assisting with hosting a race gazebo, please contact Candis Lubbe on 084 3710 123 for January races listed above.
CHAMPIONSHIP RACES COMING SOON
ROAD CAPTAIN - MATHAPELO THEMBA (THAPI)
Our Captain of the road is responsible for recording runners race results for all major races including Tough One! Organise and promote participation in major races, competitions, championships including development teams for both men and woman. Analyse results of events, participation, entries, substitutions. Report on all results for annual awards.
We will be introducing an optional / self-service race book at the Gazebo for you to record your own race results. The purpose of this is to be able to monitor and recognise achievements and improvements and gear towards some notable awards annual awards.

2019 RUN ZONE EVENTS
Run Zone is proudly hosting 3 major events in 2019 indicated below. More information pertaining to these events to follow on the Events page on our site. Watch this space for special announcements and news regarding these exciting events!
RUN ZONE VALENTINES LASER LIGHT NIGHT TRAIL




Hosted by Run Zone AC.




5km - R 50 p/p

8km - R 100 p/p




Randpark Golf Course, SetperkRd, Randpark, Randburg




PRIZES FOR BEST DRESSED!




Bring friends & family - all are welcome!




See website for more information.




13 FEBRUARY 2019 19h00
RUN ZONE JOBURG NORTHERN CHASE
Hosted by Run Zone AC.
5km Fun Run - 15km - 32km
Marks Park Sports Club, Judith Road, Emmarentia
MEDALS FOR ALL FINISHERS & EQUAL PRIZE MONEY FOR MEN & WOMEN!
Bring friends & family - all are welcome!
See website for T-shirt options and other important information.
24 MARCH 2019 @ 06h00
THE ZONE 100
Hosted by Run Zone AC.
Day 1: 50km - R 50 p/p (To the Zoo)
Day 2: 30km - R 50 p/p (Gordon Road)
Day 3: 20km - R 50 p/p (Monkor Road)
5/10km - R 50 p/p
5km - No charge
Northcliff Country Club
100km COMRADES TRAINING RUNS
OVER 3 DAYS
Bring friends & family - all are welcome!
See website for T-shirt options and other important information.
19-21 APRIL 2019 @ 05h00-12h30
CGA AFFILIATED AUTHORISED EVENTS


2019 promises to be jam packed with a host of various social events and functions at various scales. We will be formulating a social calendar with various occasions. Updates on various events will be posted accordingly.
RACE DIRECTOR - ALISTAIR CRONK
Manages main areas of operation of authorised CGA affiliated events and formulate a race committee per event.
Our first race committee meeting will be held on Wednesday, 09 January 2019 and further details and news and information will be updated accordingly.
MEDIA, MARKETING , FUNDRAISING & SOCIAL NEWS


Watch this space for news on our social, fundraising and marketing initiatives!
Marketing & Media Update:
Please subscribe to our Run Zone You Tube Channel - when we hit a 100 subscribers, we get to customise our channel!
Our www.runzone.co.za site has recently been upgraded to a new look. Phase 2 is currently being rolled out by the end of January 2019, so look out for awesome website updates coming soon!
Fundraising & Social Update:
Follow us on social to stay informed on all news pertaining to our club! We have some great fundraising and social initiatives planned for 2019 as well.
Stay in the Zone!
FUNDRAISING TEAM - PAM SULLIVAN, ALMO VAN NIEKERK & GARY KNIGHT
What we know as team FUN-draising, this crew is a tight ship to get any job done and will be involved in a series of events and initiatives throughout the year. To plan and manage fund raising initiatives for the club as well as for members, events or any other activities where funds are needed. Fundraising may occur in the form of events, campaigns, raffles, competitions or any other initiative.
MEDIA MANAGER - MAXINE LUBBE
To manage, collate, oversee all media related aspects of the club including marketing and communications of the club and events. Niche role players may be recruited or assigned to co-ordinate specific aspects of media if needed.
SOCIAL CLUB LEADERS - SIFISO NDABA, MLONDI BHENGU & ALISTAIR CRONK
Usually heard on the road with loud music, our social team will be seen and heard throughout the year! To arrange, co-ordinate and promote social events or functions at any scale, formulating a social calendar and occasions. Manage any logistics around the social that may be required and may recruit volunteers where needed.
Contact Candis Lubbe on 084 3710 123 if you are able to assist these team leaders in any shape or form during the year - we welcome all!
"Our club has been built on the power of the people. Behind the people are our leaders!"
Run Zone AC held it's AGM early October 2018. Members put forward their nominations and we elected our 2019 Operational Committee.
A group of people from our own home grown community who take pride in serving the Run Zone community. Dedicated, humble, strong and passionate! Thank you to all our members who took the time to nominate, vote and most of all, to those who believed in the crew to serve you!
This year is going to be an exciting journey.
CLUB INDEMNITY, GENERAL RULES & CODE OF ETHICS
Please visit the club administration team to complete our club indemnity form to ensure that all our members comply with our code of ethics, general rules & regulations and safety protocol!
LEGAL ADVISOR - IAN JOULE
To advise, represent and review certain aspects of the club that require legal and ethical attention.



CHAIRMANS CHRISTMAS CHARITY RUN - 25 DECEMBER 2018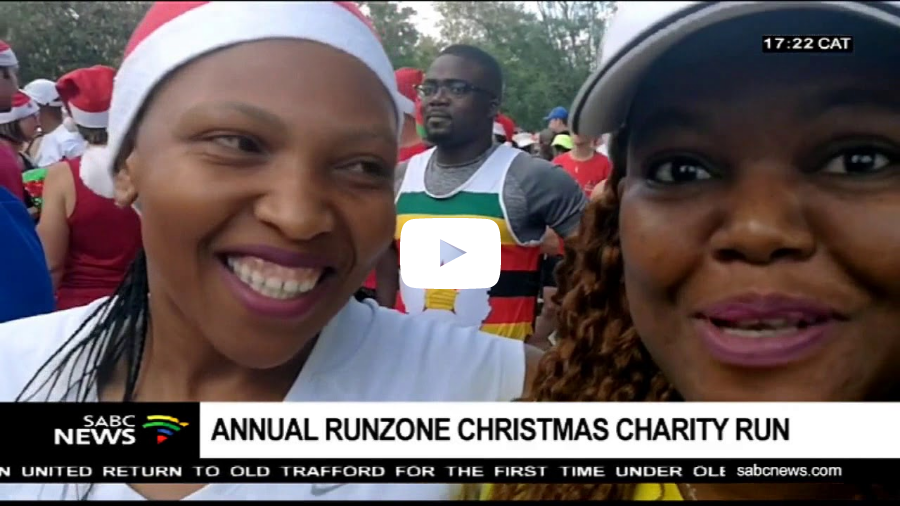 #FOLLOW US & CONNECT ON SOCIAL